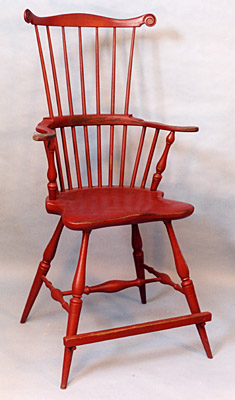 Philadelphia Combback Tall Chair with Bandsawn Arm

This is an adaptation of a "speaker's chair". Our version has a footrest which makes the chair suitable for counter seating.

Seat Height: 24"

Seat Depth: 17"

Seat Width: 21"

Overall Height: 53"

Color Shown: Salem Brick Red Paint

(other colors available)

Without Knuckles: $1200.00

With Knuckles: $1400.00

Notes

All measurements are approximate and may vary slightly from one piece to the next.

Colors and finishes may vary somewhat from the photographs on this site. While we attempt to keep the colors as consistent as possible, there will always be some variation due to mixing of colors and final distressing.