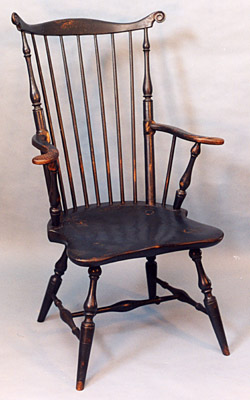 New England Fanback Arm Chair

As shown, this graceful looking arm chair has a shield style seat. The medial and side stretchers have rings. The arms have a flat scrolled handhold. Beautifully turned legs and side posts. Carved ears on crest rail.

Seat Height: 18"

Seat Depth: 17"

Seat Width: 21"

Overall Height: 46"

Color Shown: Black-blue paint.

(other colors available)

$1400.00

Notes

All measurements are approximate and may vary slightly from one piece to the next.

Colors and finishes may vary somewhat from the photographs on this site. While we attempt to keep the colors as consistent as possible, there will always be some variation due to mixing of colors and final distressing.