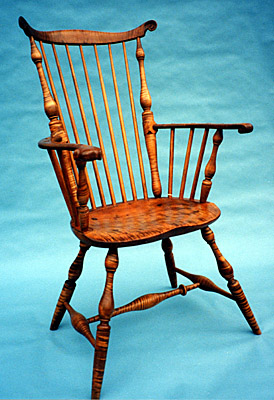 Philadelphia Fanback Arm Chair

Made of tiger maple, this wood grain "dances" when you look at it. A very impressive chair. The only parts that are not tiger maple are the spindles. They are turned from hickory. Beautifully carved knuckles and carved ears on the crest rail.

Seat Height: 17"

Seat Depth: 17"

Seat Width: 22"

Overall Height: 46"

Natural finish. Medium brown.

$2200.00

Notes

All measurements are approximate and may vary slightly from one piece to the next.

Colors and finishes may vary somewhat from the photographs on this site. While we attempt to keep the colors as consistent as possible, there will always be some variation due to mixing of colors and final distressing.